After skinning everything else, I thought I'd try and and personalize the Airships.
First of all I used the "select url" in the editor, and for random patterns it worked easily enough.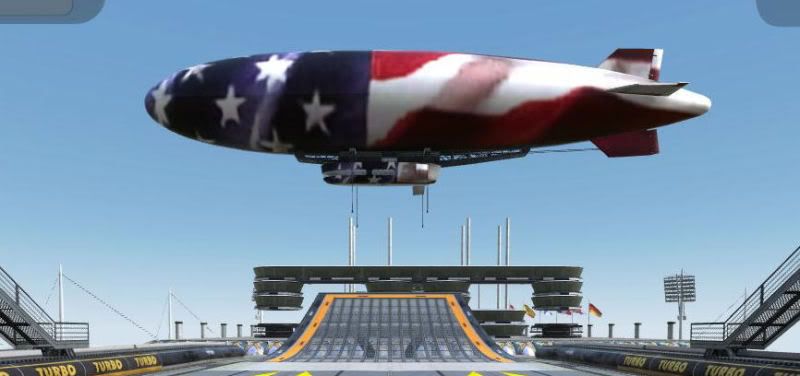 The editor just wraps the image around the Airship, and there seems to very little control of exact placement fo the image.
Or am I missing something?
To place text and emblems I opened the .dds file in Corel's Paint Shop Pro. The templates for the Airship skin were very clear and easy to work with. It was obvious what parts were what.
When I was finished I saved the skin as Image.dds and put it in a .zip file called Blimp.zip. I then put the .zip file with TMU.zip and White.zip (the ingame Airship skin choices, along with default). in program files/TMUnitedForever/Game Data/Skins/Stadium/Airship. When I opened the game editor to Skin Airships my new file wasn't avbailable.
Having skinned several cars, and even more sailboats in VSK, I know how it works, so I looked in My Documents/TrackMania but it wasn't clear where the file should go. In My Documents/TrackMania/Skins I created a Stadium/Airship folder and copied the .zip file to there, but that didn't work either.
Is what I am trying to do possible?
In the end, I replaced the Image.dds files in TMU.zip and White.zip with two of my Image.dds files, saving the original .dds files. While this works, it limits me to two skins, and denies me the ingame skins.
I know I must be missing something simple, the proper location for these custom Airship skins. The way I did it seems clunky.