Bonjour,
Alors voilà, je suis skinneur, modeur, vidéaste pour la team RAR. Avant j'avais le même poste chez les SSM°, il y a de ça 5 ans. Présentation faite et je pense que le seul points nécessaire est dit.
Donc dans le cadre de mon Poste dans la Team Rage And Race (skinneur / modeur / vidaste / manilinker) j'ai créer 5 Mods:
- BlackPurple (dispo sur notre manialink que j'ai créée)
- Matrix Mod (dispo sur notre manialink)
- Mod RAR
- Mod Snead' (une team montée par un ancien RAR)
- Mod Rob's (commande privé d'un snead')
Pour m'aider et m'inspirer, je télécharge divers Mods comme tout le monde. Cependant, en surfant sur la manialink je suis tombé sur une page DDSTYLE. J'ai donc feuilleté la page et ... Boom je tombe sur un de mes mods !! Le mec a du le choper sur notre forum ou notre manialink. Certes il peut la mettre en ligne cela me dérange pas SI:
- les coppers proposer serait identique au mien soit 150cp (la moyenne des mods)
- les coppers au quel il vend ne me revient pas (en gros il se permet de vendre mon taffe sans que je suis rémunéré !!)
- les IL N'A PAS DEMANDE MON ACCORD !!!
Je ne sais pas ce qui est envisageable sur ce mec / la team (greenRacer's) mais je refuse que mon mod soit vendu sans mon encore ni qu'il se permet de le vendre sans me reverser une peartie (ce qui est tout a fait normal celon mon point de vue)
si joint l'imprim'écran concernant le fautif !!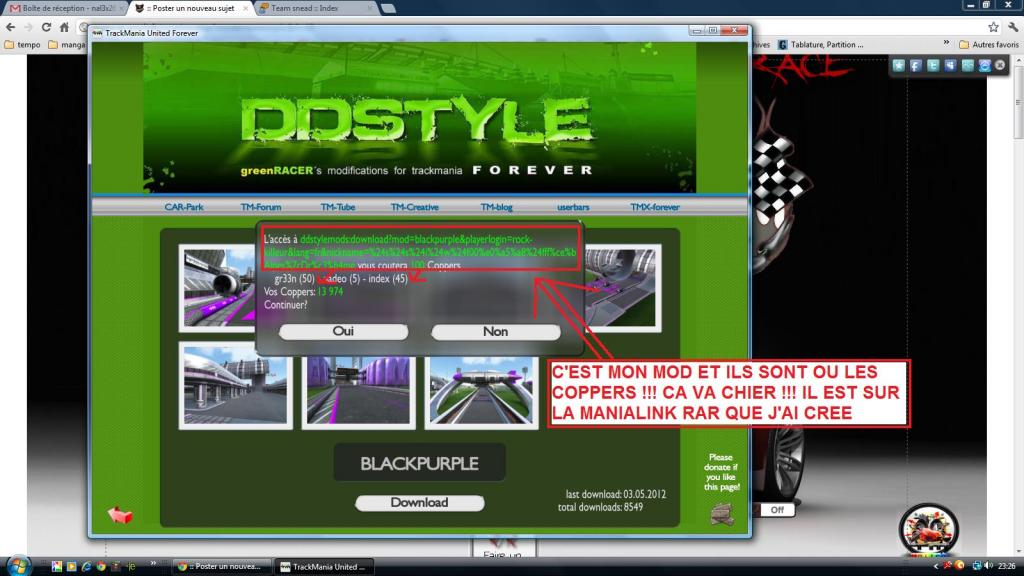 ---------------------------------------------------------------------------------------------------------------------
BY GOOGLE TRANSLATION:
Hello,
So here I am skinneur, modder, videographer for the RAR team. Before I had the samejob with the SSM °, there is that 5 years. Presentation and I think the only points neededis told.
So part of my Position in Team Race And Rage (skinneur / modder / film maker /manilinker) I create 5 Mods:
- BlackPurple (available on our manialink I created)
- Matrix Mod (available on our manialink)
- Mod RAR
- Mod Snead '(a team assembled by a former RAN)
- Rob's Mod (control of a private Snead ')
To help me and inspire me, I download various mods like everyone else. However, while surfing the manialink I came across a page DDSTYLE. So I laminated the page and ...Boom I come across one of my mods! The guy from the busted on our forum or ourmanialink. Certainly he can put it online IF bother me:
- Propose the coppers would be identical to mine 150cp (the average of mods)
- The coppers at what he sells is not for me (basically they can not sell my toke I'm paid!)
- The IT DID NOT REQUEST MY AGREEMENT!
I do not know what is possible on this guy / the team (greenRacer's) but I do not want mymod without my even being sold or that it can sell it without a peartie repay me (which isquite normal celon my perspective)
if the seal on screenshoot fault!
[img]
http://img83.xooimage.com/files/e/e/3/v ... 42e0dd.jpg
[/ img]