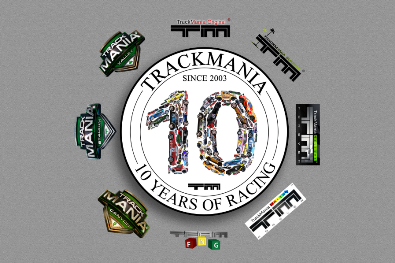 Team FNG is proud to present our TrackMania 10th LANniversary Celebra10n!
We will be hosting ours this Friday, 22 Nov 2013; because we are unable to do it on the official night of 14 Dec 2013.
Details can be found on our
Friday Night Gamers blog
We will be hosting a for-fun tournament, featuring classic maps of old until today. One track per environment (Stadium will be played inside TrackMania United Forever so we have one less server to hop to complete the tournament.)
The tournament will begin at
8:00pm Mountain
and you can download the
Track Pack
to practice.
(Details for joining our servers and extracting the pack are on our blog.)
I will point out that we kept the tracks not as hard-core as some might like, because we have children playing with us as well as some newcomers to the TrackMania universe. We hope you will enjoy our selection and join us either on our server (we'll have 50-100 slots depending on how well my bandwidth will do), or on the
Twitch.tv stream
hosted by "SiREN" of the Frag Dolls and "Johkr" of Ubisoft.
Please read all the details including the rules for playing on our servers on our blog post linked above.
We wish everyone the best of luck and the most of fun with all of the other tournaments and parties that will happen in celebration of an epic decade of TrackMania!
Thanks Nadeo!!!
Here's to another decade of TrackMania!
EDIT: Added the Twitch.tv stream link above